Improve employee wellbeing through humor. No Joke.
When employees thrive, so does your business
Consider the following statistics from a Harvard Business Review survey on employee wellbeing over the last year: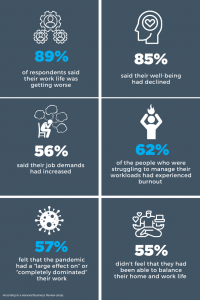 Employee mental health and wellbeing is suffering and it's having a direct impact on organizational performance and growth. As a result, leaders are placing increasing importance on employee wellbeing and on building a resilient workforce.
Change isn't easy, nor is it comfortable, so to build resilience and improve employee mental wellbeing, organizations need a catalyst to shift the perception of change.
That catalyst is humor.
Through humor-based training, employees can shift their perspective to one that embraces change, thinks outside the box, adapts quickly to the lessons of failure, and deepens relationships to emphasize common ground and drive growth.  Other benefits:
Improve engagement and create buy-in
Increase productivity
Enhance creative problem-solving under pressure
Strengthen connection, communication and collaboration with prospects and clients
Reduce stress
And so much more
Want proof that it works? A Hewitt & Associates study found that organizations where humor is part of the culture showed increased shareholder returns of 19%.
Plus, we could all use a good laugh. Click here for yours.
Peppercomm, in partnership with clinical psychologist Silja Litvin and professional comedian and leadership speaker David Horning, has developed an exclusive training program customized to help transform your organization and improve productivity, drive sales and strengthen resilience among your teams.
The program starts with a clinical assessment that pinpoints the unique challenges facing your organization and employs an evidence-based approach to creating a safe space for your employees to break down barriers and develop the necessary skills to succeed in a joyful manner that engages stakeholders and drives real outcomes.