About Laughing Matters
It's taken a long time for the business world to wake up to the incredible power of humor…as a differentiator and a catalyst for enhanced morale, engagement and productivity.
But now, stand-up comedy is a required three-credit course for ALL Stanford MBA students. And the Harvard Business Review and New York Times have written in-depth articles about why humor is "of the moment."
Our new podcast, Laughing Matters will feature guests from all walks of life who share one belief: laughing matters. It matters a LOT.
We live in a time when laughter, comedy and humor has never been more important to everyone's wellness.
So sit back, relax and prepare to listen to how and why laughing matters so much to our amazing guests.
You can access the latest episodes on Buzzsprout. You'll also find us on Apple Podcasts.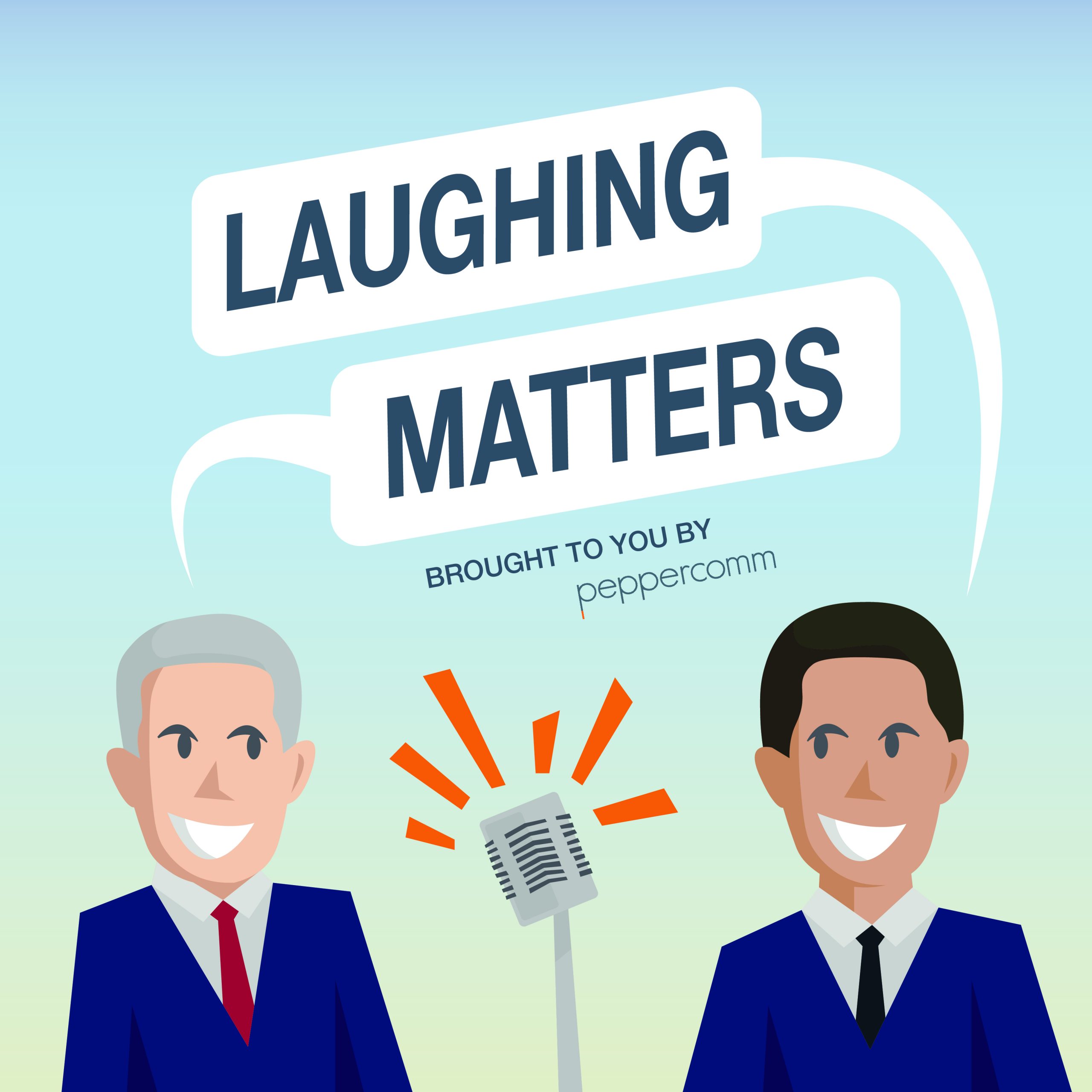 Latest Episodes
Episode 19 – How to use humor to become an award-winning global CMO superstar. Sometimes you have to use humor to tell the same stories in a completely different way from what your competitors are doing. Laughing Matters recently welcomed Rupen Desai, co-founder of The Shed 28, who talked about how he did just that in his former role as CMO of Dole. His insights include:  
Why he's done working with people who "suck the oxygen" out of the creativity of others and chooses to surround himself with those who fill him with that oxygen.
How humor and laughter are powerful breakout strategies to tackle serious issues like climate change and sustainable foods.
The way he catapulted the Dole brand, and his own personal brand, with his unique and lighthearted approach, garnering him recognition at the Cannes Lions festival in 2022 and as one of Forbes' most influential CMO's in the world.
Also, Rupen mentions a unique and hilarious video on how to be a leader, called "Leadership Lessons from a Dancing Guy." You can click the link here watch it.   For the full podcast episode with Rupen, click here to listen.       Episode 18 – Tinkling, Toilets and Thought Leadership
Tina McCorkindale, the first female president & CEO in the Institute for Public Relations' storied 65-year history, shares LOL stories that include:
Hiking in the Cascade Mountains (and figuring out how one manages the call of nature in the midst of nature)
Navigating the worlds of academia & business (and coping with a toilet flushing during a very serious taping)
Examples of celebrities showing humor (a politician, an athlete and a CEO are at the top of her list)
Listen to the full episode here.  Episode 17 – You Know You've Made it When You Can Call a Rapper by Their Middle Name   Tone Viera, producer at SiriusXM, stand-up comedian, and content creator joins us on the Laughing Matters podcast to talk how comedy fuses with hip hop. He breaks down how he fell in love with comedy and his experience working with some of the most influential hip-hop artists of today. Some notable takeaways:
The down-to-earth nature of the hip hop artists he interacts with, including one who happens to be his boss and with whom he's on a middle-name basis
His embarrassing moment with the daughter of a world-famous record producer
Tips on where to go on social media to stay relevant and also what's the next hottest trend in hip hop
  Episode 16 – How humor and laughter can turn your organization into a World Series contender Wayne McDonnell (aka Doctor Baseball), a sports consultant, college baseball broadcaster, and part of the faculty at UNC-Chapel Hill, joins us on Laughing Matters and takes a headfirst slide into the reasons why laughter separates the great players, managers and teams from the also-rans. He also discusses:
How the very best athletes and teams use laughter to manage stress and setbacks
What he learned from Hall of Fame baseball announcer Vin Scully
A couple of phenomenal stories about two sports legends.
Listen to the full episode here.
Episode 15 – Don't worry, be happy… two years later. A recent Oracle survey found that nearly half of participants haven't felt happiness for more than two years! People want to smile and laugh, but the survey also found 95% of business leaders fear using humor with customers. Ruder Finn CEO Kathy Bloomgarden joins Laughing Matters to talk happiness, while also expounding on the following: – Her examples of leaders and brands that incorporate humor. – How her dad, David Finn, one of the founding fathers of PR, kept his employees on their toes while having a little fun. – Her main method of decompressing: honing her language skills with the help of Mandarin soap operas! – Her super awkward interaction at the World Economic Forum in Davos that taught her a valuable lesson to always dress for the weather! Listen to the full episode here. Episode 14 – How Southwest keeps it funny at 30,000 feet. Riding for hours in a constricted, highly pressurized cylinder with a bunch of total strangers can be tough, especially if you don't have a sense of humor. Luckily, the airline industry has Linda Rutherford, executive vice president of people & communications and chief communications officer at Southwest Airlines. She joins Laughing Matters to discuss: – Their history of having a humorous culture, starting with founder Herb Kelleher, who used to hide in the overhead bins to surprise passengers. – SWA's creative and highly energetic in-flight staff, and how the company approaches training to support employees and find their strengths. – Her cringeworthy moment early in her career as a journalist when she felt under the weather and left an unexpected gift for a potential source. Listen to the full episode here.
Episode 13 – Life got you down? Reframe it! Comedian David Horning joins Laughing Matters and teaches us a fresh take on how to reframe even the most difficult situations (hint: make a conscious choice to poke fun at yourself). In this podcast, you'll learn:
How he went from trying to be a lawyer with a political science degree to waiting tables at New York's finest comedy clubs
How one improv course where participants were initially resistant turned out to be a huge success
Overcoming the fear of comedy/humor still present in many organizations (don't say the "C" word)
His take on the "slap heard 'round the world" at the Oscars earlier this year and its impact on how we perceive humor
Listen to the full episode here.
  Episode 12 – How to decompress: the "Coach" dishes on his game plan. Teaching business execs how to be leaders while not taking themselves too seriously is no small feat. Our latest Laughing Matters episode features renown executive coach Ken Jacobs, who talks about critical ways for leaders to blow off steam. His insights include:
The identity of one exec from a major U.S. airline who brings tremendous humanity and humor
An experience from early in his career when one executive leader would literally roll out into staff meetings on a giant adult tricycle
How empathy plays a key role in managing one particular up and coming generational workplace group
What he hopes will be the Ken Jacobs legacy after he hangs up the metaphorical coaching jersey
Listen to the full episode here. Episode 11 – Putting smiles back on people's faces. Listen to our insightful discussion with renowned comedian Clayton Fletcher, as he weighs in on how the business world has gone from looking at comedy and humor as a "nice to have" to a necessity that helps solve different challenges and pain points with their employees and client interactions. Clayton also discusses:
What has changed in how businesses approach humor in his last 13 years as Chief Comedy Officer for Peppercomm

How he identifies the innate qualities each person has that makes them funny as storytellers

The ways in which teaching humor in business has changed with a more politically divisive environment.

The increasing need for comedy service offerings such as the ones Peppercomm offers
Listen to the full episode here. Episode 10 – Share your whole weird self. We're joined by Liz Joynt Sandberg, who talks about her role as Head of Comedy Arts at the Theatre School at DePaul University and how helps students and businesses bring their most unique, "weird" parts of themselves to the performing arts. Liz also shares:
How she uses humor to motivate her students and artists she works with to take a break from the anxieties of the world.

How comedy "ate" her life after taking a class with Second City in Chicago

Her experience explaining a comedy exercise to a prestigious academic institution that thought it wasn't ready
Listen to the full episode here. Episode 9 – From journalist to doing stand-up comedy at Caroline's Jon Gelberg is executive editor of content strategies at Inc. Media, but he also moonlights as a stand-up comedian in the New York comedy club circuit. Listen to our latest episode to hear Jon talk about how he got into comedy, some of his embarrassing moments, and how he overcame a serious medical diagnosis with humor. Jon also shares:
His experiences at some of New York's most famous comedy clubs and running into legendary comedians
The evolution of comedy over the years and how the younger generation approaches humor
Tips on how businesses can use levity to survive the current challenging economic environment
Listen to the full episode here. Episode 8 – Using humor in a global business to "freakin' lighten up." Angela Sullivan, head of communications for the Americas at Xero, a New Zealand-based company and a Peppercomm client, sits down with Steve and Paul to talk about how humor works in a large, global organization like Xero, and how the business owners they serve are learning to take a lighthearted approach in a challenging climate. On this episode, you'll hear Angela's thoughts on:
The difference between humor in the U.S. and humor in New Zealand and Australia
How humor is part of keeping it #human
Using humor when confronted with microaggressions when she moved back to the U.S. from Asia as a teenager
Listen to the full episode for more! Episode 7 – Disagree while remaining civil? Two top CNN commentators say it's possible! While Washington does its best to scoff at bipartisanship, two extraordinary women from opposite sides of the political spectrum have made it work – discussing serious matters while keeping it upbeat. Join us as we speak with CNN commentators and political/communications consultants Maria Cardona and Alice Stewart about how they are able to accomplish this. On this episode, you'll hear:
Maria sharing a very likable story about Hillary Clinton, whose alleged "unlikability" many pundits say cost her the 2016 election (30 min)
Alice explaining how presidential candidate Mike Huckabee used self-deprecating humor to address the elephant in the room (28 min)

Their embarrassing moments they laugh at now – from accessorizing while on-air to travelling with a presidential candidate while hauling some pretty cumbersome luggage (34 min/38 min)
Listen to the full episode for more! Episode 6 – A pope, a rabbi and a publicist walk into a synagogue… Communications professionals are behind the scenes at pretty much every major event you can imagine, and few are as versatile or cool under pressure as Jody Fisher, award-winning publicist and vice president at Austin Williams. Listen to some of his stories from working in journalism and PR:
How he and a photographer had 10 seconds to snap a photo of the first sitting pope to visit a U.S. synagogue
Doing man-on-the-street interviews with New Yorkers in the 1990s
His cringeworthy story of taking a nap in a business meeting and receiving a rude awakening from none other than Rupert Murdoch
Listen to the full episode for more! Episode 5 – When Ryan Reynolds takes you to dinner. What do you do when your significant other breaks up with you, but you already have a vacation planned with a plane ticket in that person's name? Well you look for someone with the exact same name on Reddit, of course, which will then lead you to be part of a reality TV-like saga that culminates in Ryan Reynolds taking you to dinner and saying he'd love to play you in an upcoming biopic. Join us as guest Jordan Axani, co-founder and educational director of Shift Collab, shares how his impossible story was part of the reason he embarked on a career advocating for mental wellness and owning your most vulnerable and cringeworthy moments. Click here to listen to the episode: Episode 4 – How to deal with a cold on Air Force One. Special guest Anthony Scaramucci, head of global alternative investment firm SkyBridge Capital, joins Laughing Matters to talk about his infamous 11 days as White House Communications Director under then President Donald Trump and regales us with some of his best anecdotes involving Steve Bannon, Reince Priebus, Sean Spicer and others. He also tells us why he believes self-deprecating humor humanizes every leader, and gives us a perspective from his "end" on how he got treated for cold symptoms on Air Force One. Click here to listen to the episode. Episode 3 -Leading with humor means… Facebook jam sessions! What do you do when you need to bring some levity to the world in the middle of a pandemic? For our latest guest, it's hosting weekly musical jam sessions from his basement and streaming them live on Facebook! Join us for a compelling conversation with Jon Harris, Senior Vice President and Chief Communications Officer at Conagra Brands, who talks about how he came up with the idea for his weekly music segments, who he'd dream of rocking out with, and some great examples of how he has led with humor for some impressive and award-winning campaigns in the food and beverage space. Click here to listen to the episode (Advisory: This episode contains explicit language that may be offensive to some listeners).  Episode 2 – Trust me doc, I've got a brain tumor. It's not easy to find the humor in a tumor, but that's exactly what our latest guest did! Join Steve and Paul for a conversation with Marian Salzman, senior vice president of communications at Philip Morris International, as she recounts her self-diagnosis of a benign brain tumor and her experience working with her doctors as a three-time brain tumor survivor. Humor played a major role in Marian's ability to not only survive but thrive. She also explains her role at PMI in educating smokers and potential smokers about the dangers of tobacco. It can't be easy trying to re-position a brand that's always been associated with cigarettes, but Marian's doing it and she's using the power of humor to lead the rest of the organization. Click here to listen to the episode. Episode 1 – What's Your Best Lawyer Joke?. In our inaugural episode, Steve and Paul chat with award-winning journalist and former Deputy Chief at the U.S. Department of Justice, Michael Zeldin, who has covered the Mueller investigation, the Clinton impeachment and the OJ Simpson murder trial. Listen to some of Michael's favorite lawyer jokes, how he uses humor to help him cope with the daily influx of negative news, and his reflections on the crazy days of '94 when the world was watching the LAPD chase OJ in his white Ford Bronco. Click here to listen to the episode.