THE LAUGHING MATTERS PODCAST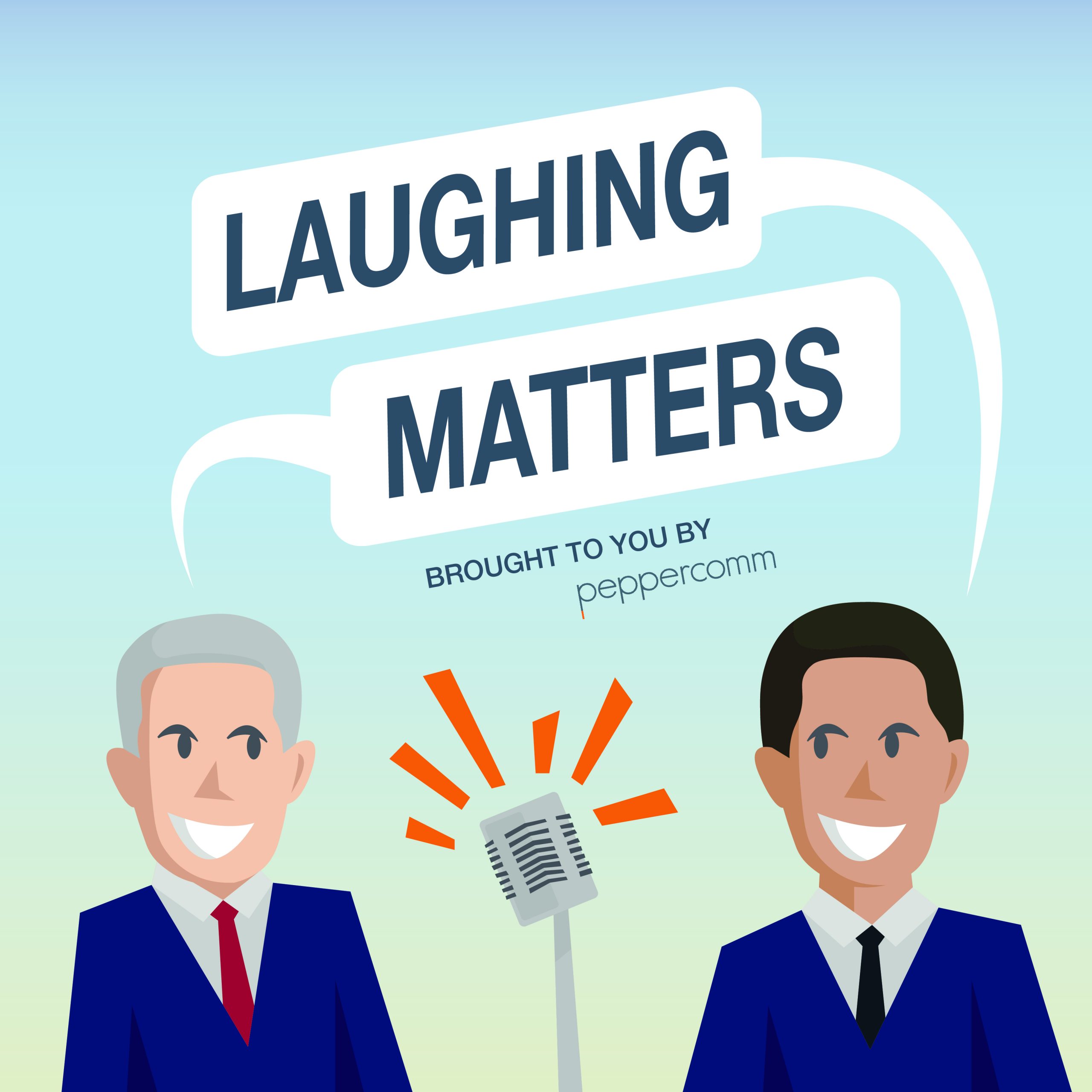 About Laughing Matters
It's taken a long time for the business world to wake up to the incredible power of humor…as a differentiator and a catalyst for enhanced morale, engagement and productivity.
But now, stand-up comedy is a required three-credit course for ALL Stanford MBA students. And the Harvard Business Review and New York Times have written in-depth articles about why humor is "of the moment."
Our new podcast, Laughing Matters will feature guests from all walks of life who share one belief: laughing matters. It matters a LOT.
We live in a time when laughter, comedy and humor has never been more important to everyone's wellness.
So sit back, relax and prepare to listen to how and why laughing matters so much to our amazing guests.
You can access the latest episodes on Buzzsprout. You'll also find us on Apple Podcasts.
LATEST EPISODE
Episode 28: Kendra Prospero
Episode 27: What to do when you're humor-blocked at work: Kathy Klotz-Guest Author, podcast host, keynote speaker and comedian Kathy Klotz-Guest shares how she helps companies infuse humor into their everyday practices through the tenets of improv and comedy through her company, "Keeping it Human." Kathy shares her approach while also discussing:
• How most organizations need to get out of their own way to bring humor back • Why it's still a challenge for women to be funny (and not be funny) in their jobs • When your humor comes off cringe, learn to "embrace the suck"
Episode 26: Welcome so Spublic Peaking (or something like that); Dr. Don Waisanen Baruch College Do you think today's politicians are too scripted? Or maybe they're a little too comfortable "winging it." Or maybe they need to go old school and take a page out of President Lincoln's joke book. Dr. Don Waisanen from Baruch College joins Laughing Matters to discuss the dire need for more humor in political communication today and why some of the presidential candidates can stand to take an improv class before their next debate. He also discusses: • Past U.S. presidents who have been most effective at using humor • How improv can help all our communication (complete with an improv session) • His methodology for teaching his students how to be great public speakers Episode 25: From Harlem to Philly to DC: All rise for the Honorable Judge Nelson Diaz A funny thing happened on the way to the courthouse for Judge Nelson Diaz. In fact, lots of funny things happened on his journey from the inner city to the inner sanctum of Washington, D.C. power politics. From his childhood days playing baseball outside the projects in Harlem to law school in Philadelphia to his time working as HUD General Counsel under President Bill Clinton, Judge Diaz is no stranger to feeling like the underdog and outsider. In this episode, he shares how he used humor to overcome prejudices he faced as a trailblazing Latino in his profession. He also discusses: • Issues he faced being "bi-cultural, bilingual, and by myself" • Bridging the gap between how Latinos perceive humor and how it's interpreted in mainstream America • Lessons he learned on the importance of humor in the White House during periods of conflict Episode 24: Using humor in DEI training? No kidding! Dr. Malcolm Frierson, Loyola Marymount University Have you ever thought about how humor can play a role in our work in diversity, equity, and inclusion? Award-winning author and college professor Dr. Malcolm Frierson shares how his research on African American history led him to explore stand-up comedy and discusses: Researching humor as a platform for the civil rights movement and the African American experience                                                                             -How companies can improve their DE&I practices and make impactful contributions The influence of comedy greats Dick Gregory, Richard Pryor, and Margaret Cho
Episode 23: An economist, his wife and 4 kids walk into a bank: Luke Tilley, Wilmington Trust 
You might groan when you hear you're about to listen to an economics presentation, but Chief Economist Luke Tilley of Wilmington Trust explains how working at the Philadelphia Fed and a premier financial institution has shown him that his peers may be funnier than you think. Luke shares how humor plays a surprising role in his day-to-day and discusses:
Why humor is so effective, disarming and humanizing when giving economics presentations.
Keeping it level-headed when the economy can sometimes feel impossible to predict.
Striking the right balance between a demanding profession and an equally demanding home life (hint: swim, bike and run)
Episode 22: How to keep your cool when you're shooting bricks in the Metaverse: Stacey Jones, AccentureBeing a leader at a global consulting firm for over two decades taught Stacey Jones many things, not the least of which is that she was a MUCH better basketball player in real life than in the Metaverse. Stacey joins Laughing Matters to talk how she turned this rude awakening into an icebreaker and also discusses:
Why laughter and humor are essential components she's looking for in the next chapter in her career
Her experience as a young reporter writing a story about an intimidating nun that got her a good ribbing from the newsroom
Her favorite humor-infused marketing campaign including a dot-com era sock puppet
The Jennifer Lawrence-esque embarrassing onstage moment she had at a rehearsal for an International Women's Day broadcast