Peppercomm Wins 2019 PRSA Big Apple Award for Integrated Communications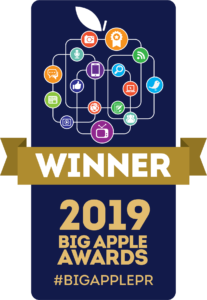 We're excited to announce that Peppercomm received the award for Best Integrated Communications campaign at the 2019 PRSA Big Apple Awards!
The recognition is for our work with the Alliance for Lifetime Income (ALI) and was presented in the category for Government, Associations & NGOs. You can see all the winners at the official PRSA Big Apple Awards winners website.
ALI is a nonprofit 501(c)(6) organization formed and supported by some of the nation's leading financial services organizations to create awareness and educate Americans about the importance of protected lifetime income. Peppercomm's campaign was crucial to help positively impact the perception of annuities in the marketplace.
We're proud of our ALI team at Peppercomm for their hard work and this well-deserved award win!